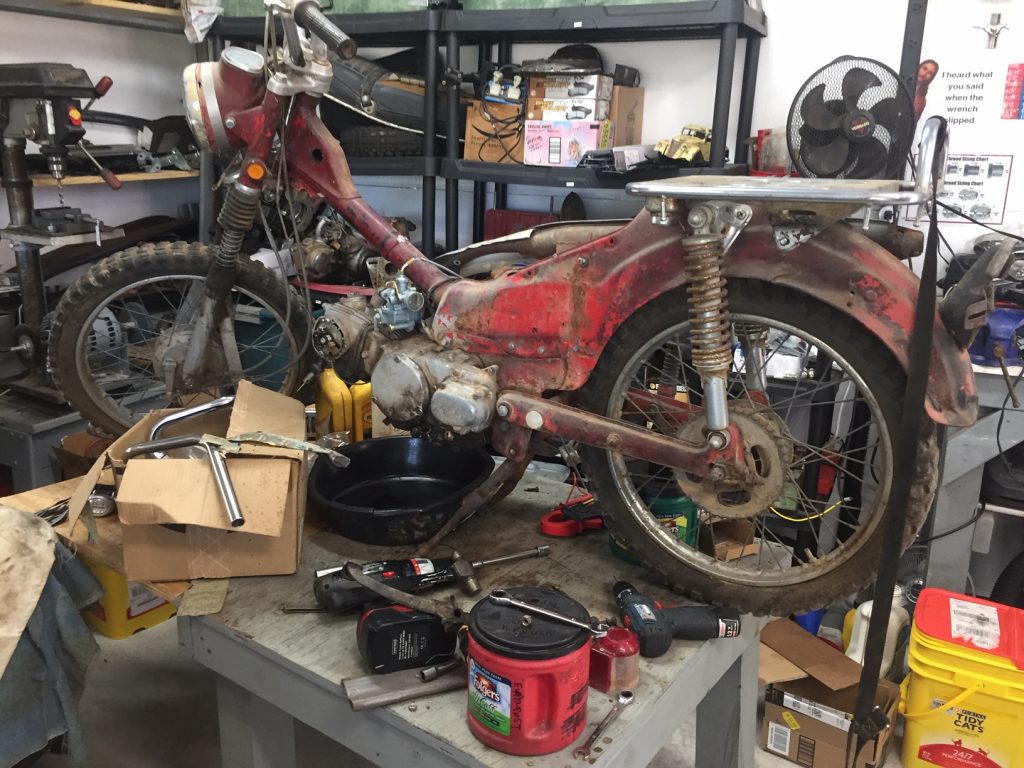 Up on the work bench, I decided to try to get the old gal running. Fuel, Air, Spark, and Timing (FAST) is how to figure it out. Along with compression of course.
Fuel first but the original carb was really pretty rough. If I had an ultrasonic cleaner it may have been worth it, but for $32 I can get a knock off carb and more forward. Fuel solved.
Air next and the original air filter was really messed up so I just pulled it off for now. I consider compression part of that "FUEL" acronym so that was next. It was very easy to kick it over by hand so compression was questionable, but it would try to push your finger off the spark plug hole so it should try to run. I never actually checked actual compression but did squirt some oil in the plug hole to help seal it up a bit more.
Spark – or NO spark is more like it. Kicking it there was no spark, so I pulled the side cover and cranked it lightly with a battery powered drill and still no spark. Time to check the points obviously. They were pretty rough so I pulled them, filed them, and readjusted them. Still no spark. Looked up the wiring diagram for a K3 and traced back to the coil and instant problem. Rodent damage on the wiring firing the coil. Re-spliced that wire and MAGICAL spark was there.
Timing shouldn't really be an issue for just getting it running I made the assumption timing was good and put the plug back in, filled the carb with fuel, and gave it some kicks with my hand and it tried.
I pulled the exhaust as it really sounded like it was completely stopped up and spit out some debris when it tried to fire. Tried it all again and the old girl fired up and would run.
After starting it a few times, I figured I should check and change the oil as I was sure it hadn't been touched in a long time. Very glad I did that as when I pulled the drain plug literally less than a 1/2 cup of oil ran out and it was done. Ouch. Filled her back up with some fresh lube and felt much better about the internals.
Amazingly the gas tank looks extremely clean inside, but I wanted to take it off and flush it out anyhow. Now she fires up with one or two kicks from a cold start. As expected, the throttle was all frozen up and the cable was junk so I pulled the throttle, cleaned it, and dropped in a new cable.
Now she started and runs. A new shifter arrived and I tried to install it but it is not nearly the same as the original stripped one. Ended up just cutting off the heal control, as I really am not a fan of those, and now I could run it through the gears. Trans seems to work fine so it could be ride-able… except for two flat tires.
Amazingly the back tire aired up and holds area. Not so much luck on the front. First the valve stem was broken which I thought was unfix-able so I pulled the front wheel off and pulled the tube. Glad I did that as well as the tube has five small holes and as I checked the inside of the front tire there were lots of small pointy things – almost like failing tire steel but not sure.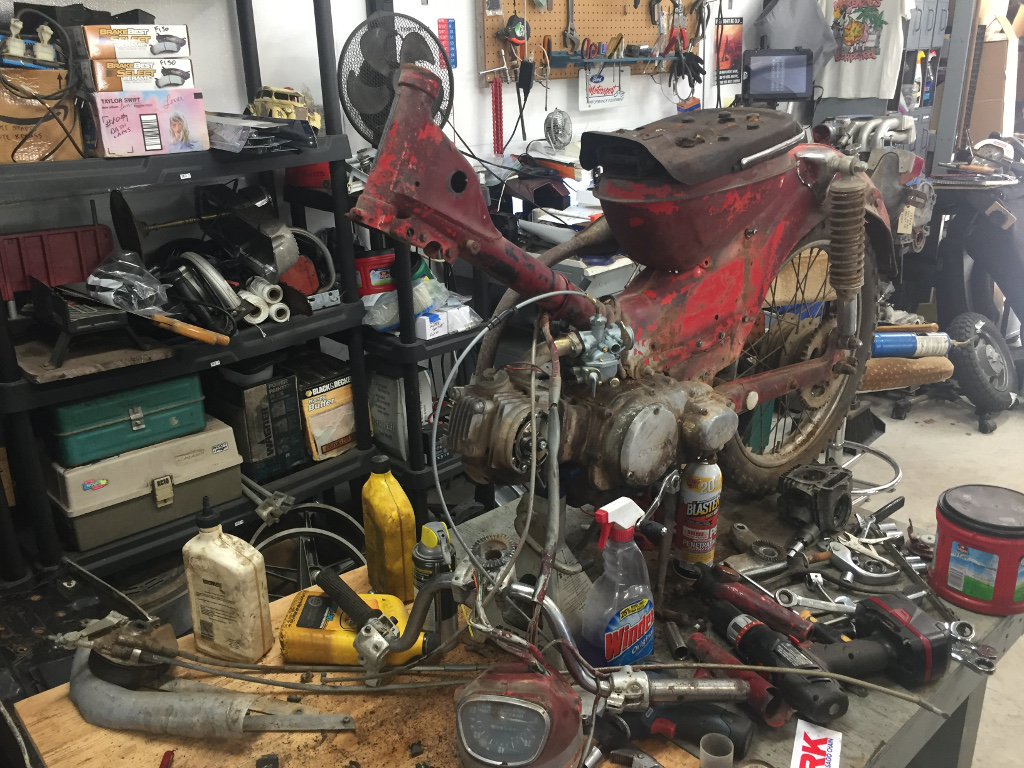 Soooo… while the front tire was off, I noticed how bad the front seals were so ordered and set and had planned on a simple front seal replacement. Of course that was quite naive as the forks were rusted solidly into the lower triple clamp. After lots of hammering, pulling, heat, and trying to get the left fork out, I ended up pulling the handle bars, top clamp, and taking the whole fork assembly off. The plan was to setup the hydraulic press and slowly press the fork out. After trying to get it all setup on the press and ready, the fork literally fell out as I tried to do the final setup to press it out. Oh well, I guess it was scared. The right fork wasn't nearly as difficult off the bike and in a vice and they both were out.
Glad I actually did do this as when I drained the forks, more water than oil came out and the tops are quite rusted up. So now with the forks and the front wheel off I've arrived at conundrum. Do I clean up the forks like my long term plan, clean the front wheel up and do the paint work I want, and put it back together as is? Or do I keep pulling the bike apart and do it all now?
I already have a modified CT70 project apart, a '66 Galaxie that has lots of time left on it, yet another CT70 that needs rings and top end work, a couple DIY e-Bikes to get running better, my '69 Mustang that still has some needed work, along with many other hobbies and interests.
Definitely a conundrum for me…