The Ride Home… and a New Dog
The car was found on Craigslist in Wichita Falls Texas, about a two and three quarter's hour drive from where we live. I talked quite a bit with the current owner and found out the history of the car to some degree. He had owned it since 1990 but pulled it off the road in 1999 due to low power, turbo "whine" and smoking. Originally a California car, he had moved to Wichita Falls over the past few years and had kept the car under a small carport in his back yard.
This had been good for the car as it was overall protected from the elements but it's rear was exposed to the sun thus some sun and slight hail damage on the back side. I looked over the car the best I could. The turbo was in the hatch area and the car was a bit in shambles on the inside but it appeared to be all there. The seller was firm on his price but he did have a valid Texas title for the car in his name so the deal was made for $1500 and we proceeded to load it up on the trailer.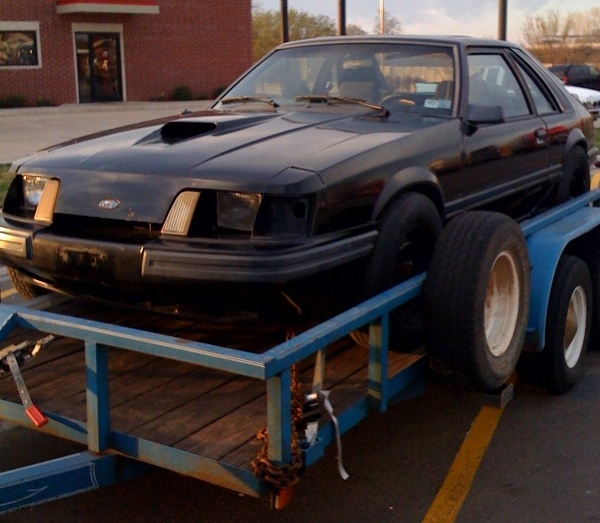 She was a bit ugly with the missing outer turn signals and the ugly black steelies but the car looked pretty rust free, the doors worked great and the turn signals were inside the car including the really hard to find passenger one. Along with that were a brand new Ford in the box pair of rear tail light lenses that went with it.
Li – Our New Puppy
While I'm out working hard to get a new "horse" in our stable, my wife is out looking for a new dog. She actually called me on the phone while we were loading up the car to ask how things were going and when I said I bought the car, she said she bought a dog. Quan Li Ponder, or "Lee" was there to greet me as a little furry ball of love when I arrived home and has been our little furry friend ever since.