Tower welded, Smoothed, Undercoated, and Pants on Fire?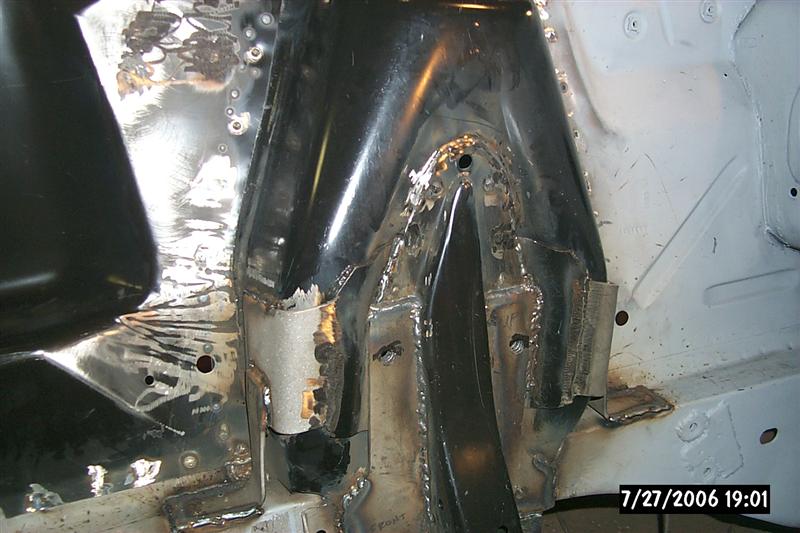 Passenger side tower is now fully welded and reinforcement kit installed. Still had some cleanup and smoothing to do on the apron when this was taken. The welding went fine in my opinion. Nothing perfect for sure but good penetration and reasonable bead. It's much easier welding thick metal than thin!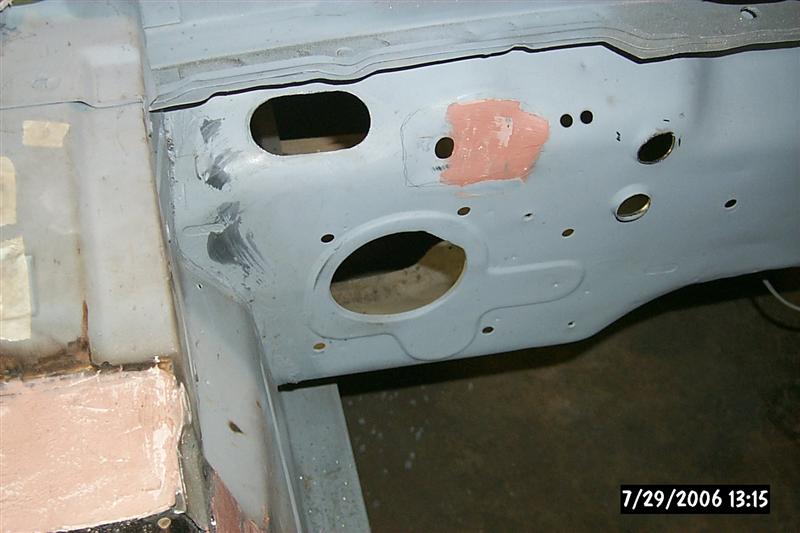 Cut the hole for the computer harness as well. Filling some holes and drilling more.. 🙁 I plan on mounting the barometric pressure sensor up in between the top hole, heater blower hole and the apron. I may still fill the two small holes unless I need them. They were made decades ago for a B&M 'Shift Control' that allowed adjustable control for vacuum to the modulator.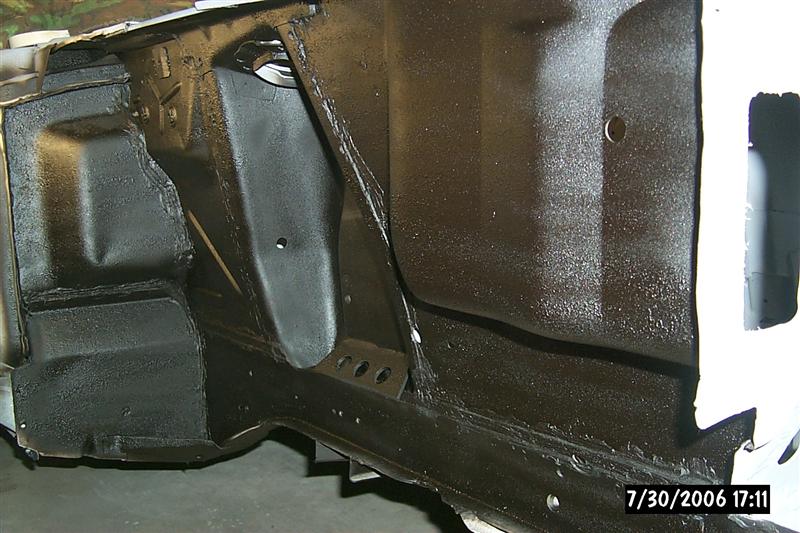 Undercoating done on the passenger side. This is just after spraying and it's still quite wet. Just have to prime/paint under the strut rod and lower control arm mount and I can install the new suspension. Hard to see from here but note I filled the original UCA mounting holes since I did the Arning* Drop. Keeps it cleaner looking to me.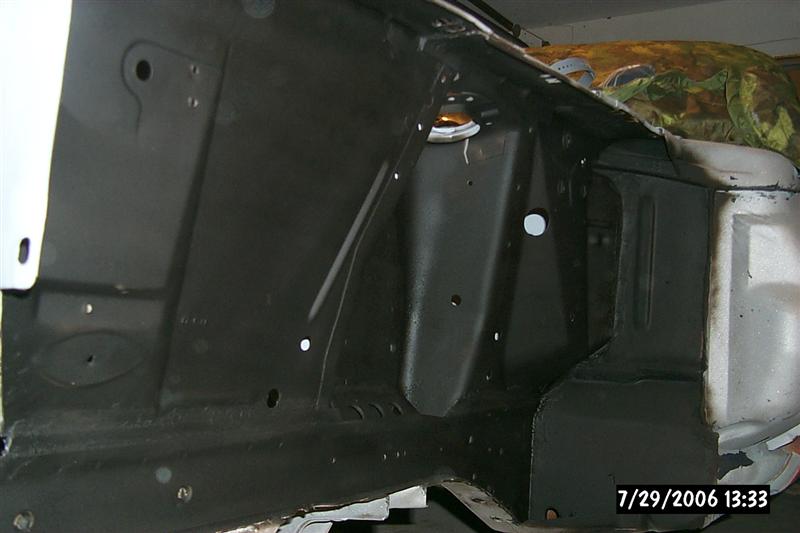 Also coated the driver side. Looks like this when dried. This is some simple Permatex spray on undercoating but I'm happy with it. I tested an area on the old passenger side tower. It has a dried tar feel to it and looks like it will protect the inside for my uses.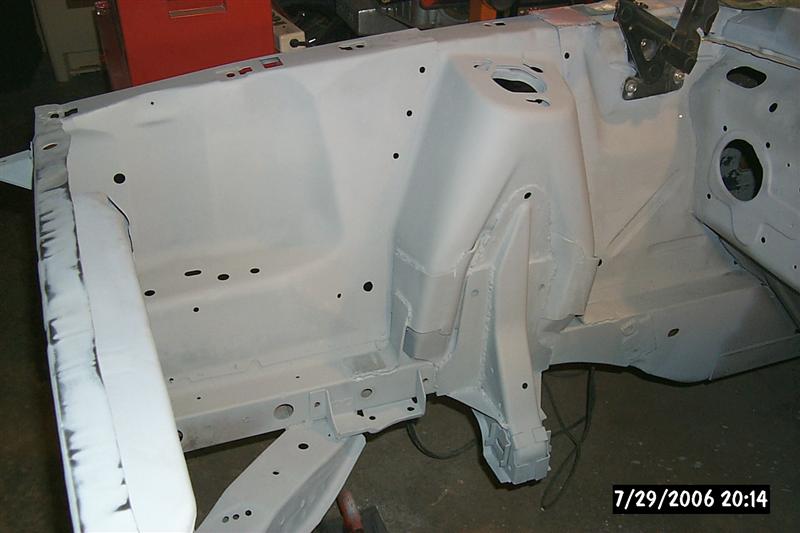 Filled holes for regulator and starter solenoid and smoothed with body filler. The bottom hole in the battery mount will be used for the EFI Mass Air Sensor mount that I will fab. I also had to replace/fix one of the hood hinge capture nuts. I ended up welding the nut to a piece of sheet metal and welding the sheet metal on the back side since the metal around the nut was wasted.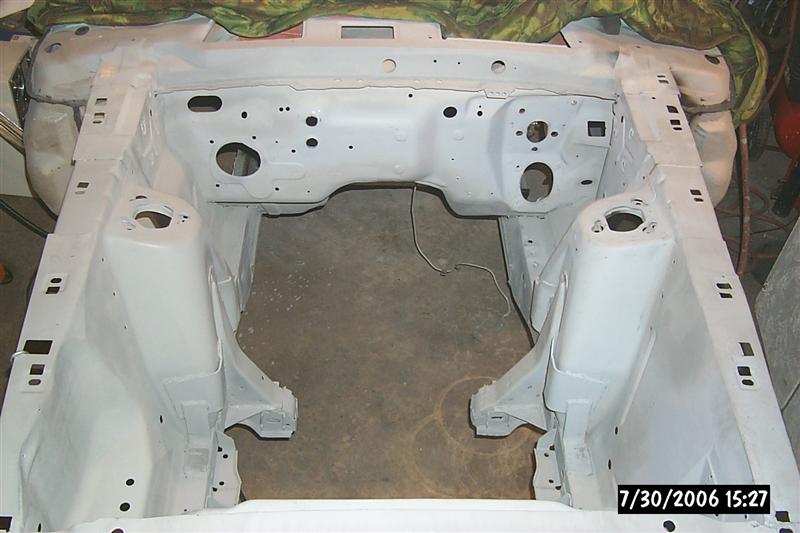 The engine bay is basically done at this point. Just waiting for a final smooth sanding and a final coat of finish color. Not perfect but this is no show car. I filled the holes I know I am not going to use.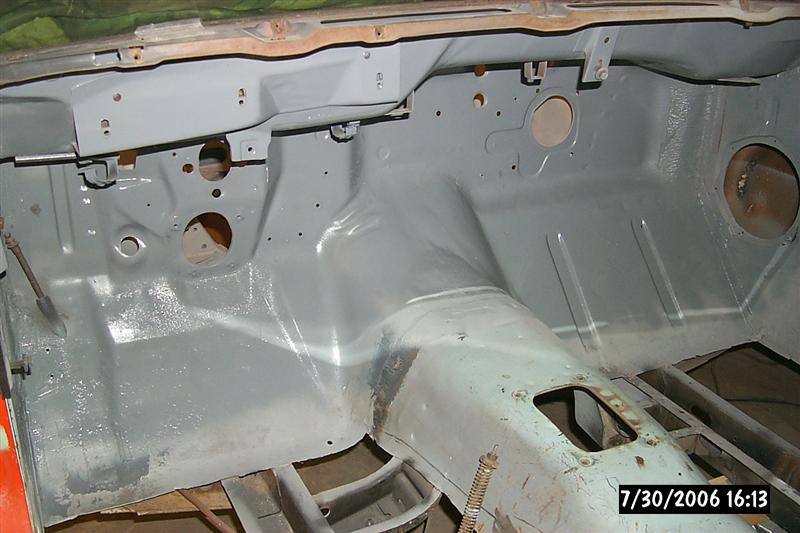 I also primed and painted the under dash area a gloss gray to protect it and to be able to see better later on when working under the dash. I remember years ago that trying to see under the dash even with a trouble light was a problem. Of course by the time I put the firewall insulator up some of this will be covered up but this should still help.

Pants on Fire?
No pictures (luckily) but I am apparently very dangerous when it comes to welding and grinding. The other night I am welding away and I notice it seems bright looking out under the welding hood so I take a look down and my pants are on fire.
Yikes! Welder in one hand, trouble light in the other, and I'm trying to stomp out the fire on my left foot with my right foot. I'm sure it was funny to see.. but not for me. No damage done though. The pair of jeans was frayed at the cuff and of course welding slag found it's way to the fray to ignite. Funny now, scary then.
Arning* drop: Klaus Arning was the Ford suspension engineer that came up with relocating the upper control arm on the Shelby Mustangs. As they say, there's no glory in engineering. I actually know Mr. Arning's daughter through online and she gave me a little background on when she was little and he was designing suspensions for Ford. Pretty cool.